My folks just returned from snowbirding in Arizona. (For those of you not in the know, 'snowbirds' are what they call retired Canadians who winter in the southern US. I've no idea if you're meant to use it as a verb or not. Probably.) In addition to some Roswell Alien Ale beer and a stuffed armadillo for my kid, my Mom brought me a little ceramic dreambox: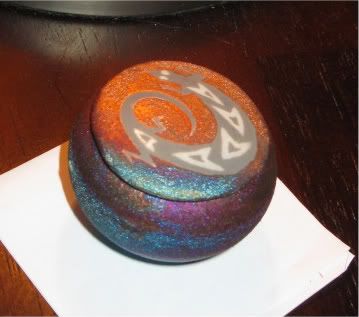 Isn't it pretty? The Legend of the Dreambox is that you "write down your fondest dream on a small piece of paper, put the paper in the dreambox and place it beside your bed. Every evening as you retire and every morning as you rise, hold your dreambox and think on your dream, believing with all your heart that it is so."
Except that I have a rambunctious toddler with free access to my bedside area, who likes to open my bedside table and rifle through it (a few awkward moments out of that. There is nothing in there now, nothing). So I guess, like a lot of things, my fondest dream will have to wait until my kid is grown up.
I'll get to you one day, Clown College. One day.