Some of you may have noticed that we dismantled the Connoisseur du Jour site. It was just too much for someone who already has 3 blogs, a woman in her first trimester and someone whose gall bladder recently attacked her. A good idea, but bad timing.
While I was posting over there I accepted the "4 Week Crest/Oral-B Challenge" to use Crest and Oral-B products in an attempt to reduce my plaque levels. I posted my final tally about 4 days before CduJ got taken down, so they asked me if I would re-post it over here. And I said of course I would, because I totally don't have a post for tomorrow I'm accommodating like that.
In my initial checkup with the dentist he determined that my overall oral health is good, but that I had moderate plaque on my upper back molars. Also, that I had a fucking CAVITY. OF COURSE.
Here are the two posts detailing my experience with the Crest & Oral-B stuff, and of course the Final Result (dun dun DUN!):
Brusha Brusha Brusha! Crest and Oral-B clean up my potty mouth!
A couple of weeks ago I posted about starting the Crest/Oral-B Challenge. It's only really started now, well, yesterday, when I got my nifty care package dropped at my doorstep.
So - y'know, so far, so good.
My cool little box came with two Crest Pro-Health toothpastes, one for night and one for day, Crest Glide "Deep Clean" floss, and Crest Pro-Health alcohol-free mouthwash.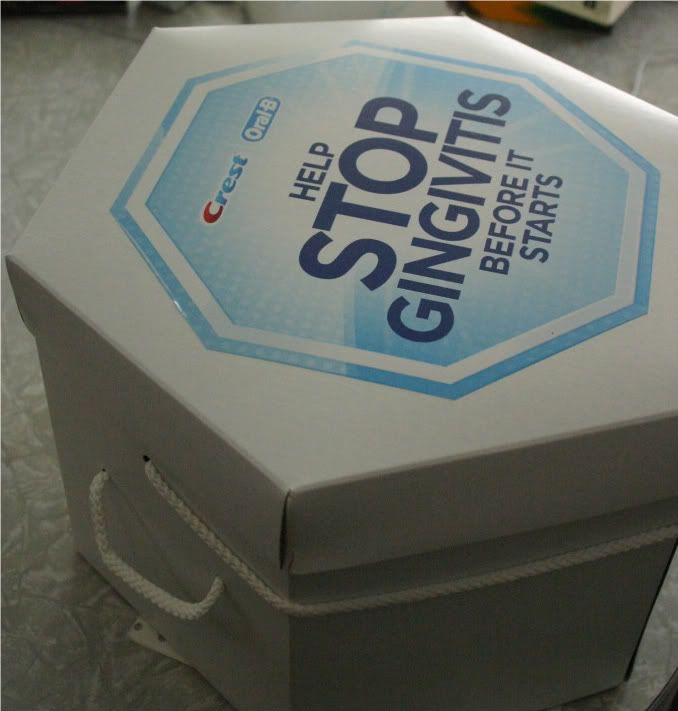 (Apparently my Oral-B Vitality Precision Clean toothbrush is arriving later, in its own limo. With its own posse of peeps. It's THAT COOL).
So the toothpastes, well, nothing revolutionary there. I mean, it's toothpaste. They do seem a bit gritty. The Pro-Health Night apparently does a better job than regular toothpaste of protecting your mouth at night from decay-causing bacteria. Both toothpastes have whitening benefits, too. Which is good, because apparently all this coffee and red wine I drink is starting to make me look like Snaggletooth.
(I wonder what happens if you mix the two toothpastes together? Do you think it's dangerous? I'm going to try it. Maybe it's like C-4).
The Glide floss is awesome, and I swear by it normally, though I've never used the "Deep Clean" variety. (How much deeper can you get without blood loss?). I still have all my wisdom teeth, which makes for a crowded mouth, but the Glide floss gets in there without shredding or getting stuck.
And, the Crest Pro-Health mouthwash. I am not a mouthwash person. I was pretty glad this stuff was alcohol-free, because the alcohol stuff? EEEEE!! THE BURNING! THE BUUUUURRRNINGG!! And the Pro-Health tastes pretty good - the gentle, sweeter mint of the light blue Trident rather than the holy-crap-smack-you-in-the-face mint of the recent 'extreme gum' trend. My issue with mouthwash normally - AND THIS IS JUST ME - is that about an hour after I use it, it tastes like something died in my mouth. Especially if I go to bed right afterwards. Then it's like something died, but threw up first.
But because I'm a dedicated little reviewer, I made the decision to use the mouthwash. I read the back of the bottle while I was swishing, and oh! hey! You're supposed to rinse with water afterwards. Which actually makes it tolerable. Less like something died in my mouth, and more like something furry just passed out there temporarily. Which is acceptable.
You learn something new every day.
(For more info, visit the Oral-B or Crest Pro-Health websites).
Crest and Oral-B: The Final Tally
If you've been with us for a little while, you know that I accepted a "Crest/Oral-B 4 Week Challenge" to use their products and attempt to improve my overall oral health and reduce my plaque.
This week was my final checkup. It was also my appointment to fix the cavity they found the first time. So I braved the dentist chair for you folks. (My dedication to you is unwavering, I know. You can show your appreciation with PayPal or chocolate).
The dentist's chair has a TV now - they even let you have the remote, albeit wrapped in plastic, but they don't get the Space channel and I don't know what else to watch during the day. I put it on some kind of talk show about a makeover subject who, 5 minutes into the show, needed major dental surgery. NOT HELPING. Switch to Oprah.
Enh...that doesn't help either, unless your goal is MORE pain.
Anyway. I put up with the needles and the stench of burning tooth enamel and the distinctly uncomfortable sensation of being able to bite as hard as you can on your own face and not feel it, because I wanted the verdict. Did Crest and Oral-B help me out?
And the answer is yes. Yes they did.
My oral hygiene was pretty good to start out with, but I had some plaque on my upper molars. And I'm pleased to report that in just 3 short weeks (what? I started late) the Oral B Precision Clean toothbrush and it's Crest compadres reduced that plaque to almost nothing. The brush head on the Oral B is small enough to get back far enough to even clean my wisdoms properly.
I was hoping for a whiter smile, but I do tend to sabotage any effort in that area with the amount of coffee and red wine I drink. And it was only three weeks. But I think Crest made a little difference.
So, what are you waiting for? It's still Oral Health Month for over a week* - get brushing!
*This is a complete and utter lie, but remember I originally posted that a while ago. Anyway, Dental Hygiene Month is OCTOBER in the US and September in the UK. So you have tons of time to think about your chompers.